This Trick Could Score You a Good Hotel Deal
Image source: Getty Images Booking a refundable hotel stay could be a good move for…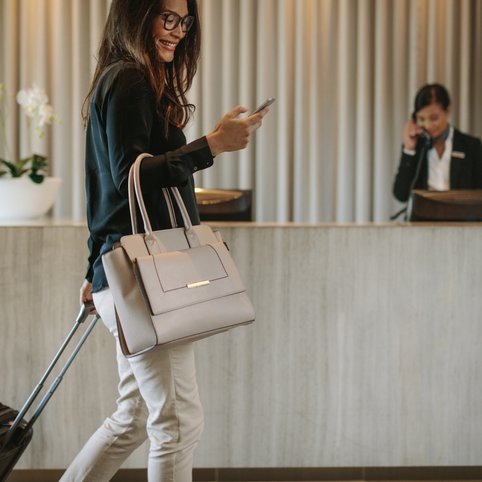 Booking a refundable hotel stay could be a good move for your wallet.
---
Key points
When making hotel reservations, look for refundable options.
You'll have a guaranteed place to stay, but will have the flexibility to cancel if you find a cheaper hotel rate before your trip begins.
---
If you have an upcoming trip to take, now is when you should start planning. There are many benefits to planning a vacation as soon as possible. It can help ensure that you have an itinerary ready to go by the time your vacation rolls around, and it can help you keep more money in your bank account by scoring lower rates.
If you put off making travel plans until only a few days or weeks before your trip begins, it may be challenging to stick to your vacation budget. In many cases, hotels and airlines continue to raise their rates as the travel dates get closer, so making plans well in advance could score you a lower rate. But there's something else you might consider doing to help you save money. Learn more about a simple trick that could help you score a good hotel deal.
Make refundable hotel bookings
How you book your accommodations matters. These days, travel disruptions aren't uncommon, and even if you plan carefully and do everything right, the unexpected can happen. If you have the option to do so, you should book hotel stays that are fully refundable to protect yourself if your plans change.
What is a refundable hotel booking? This type of reservation is usually available through hotel booking websites and when booking with hotels directly. A refundable hotel stay allows you to cancel your plans at no cost up until a certain point — usually 24 hours or 48 hours before the start of your stay. If your plans change or you find a better hotel (or a better rate), you can cancel your booking within the set timeline without penalty.
You should know that the nightly rate may be slightly higher for this added convenience — but it gives you flexibility as you continue to plan your adventure.
Another reason to book a refundable hotel ASAP
Another reason to secure a refundable hotel booking early is to buy yourself more time to find a better hotel deal. If you continue to compare prices and pay attention to deals after booking your refundable room, you may be able to find a cheaper stay in the coming weeks or months before your trip starts.
This is a method I often use when booking accommodations. I will usually book a refundable hotel stay within a few days of making my initial travel plans. Doing this ensures that I have a hotel room at a reasonable rate but also gives me plenty of time to look around to see if I can find a better price.
But there's one important thing to remember: Don't forget to cancel a booking you no longer need if you go this route. If you find a lower-priced room after making your initial booking, make sure to cancel the initial reservation. If you don't, you'll end up paying for two hotel stays, which could be expensive.
As you look at refundable hotel options, make sure to review the terms and conditions. You want to ensure that you understand the rules to avoid costly mistakes.
You can find cheap travel
Even when travel prices are at an all-time high, it's possible to find cheap travel. Pay attention to social media posts and email promotions to see if any of your favorite hotels or airlines are running money-saving deals.
Another tip is to be flexible when making travel plans. If possible, play around with your travel dates to get lower rates. A mid-week trip could be more affordable than a weekend stay. Plus, you'll likely deal with fewer crowds.
Consider using a travel rewards credit card to pay for your trip. With the right credit card, you can earn valuable rewards and redeem your rewards for free travel in the future.
Top credit card wipes out interest until 2023
If you have credit card debt, transferring it to this top balance transfer card secures you a 0% intro APR into 2023! Plus, you'll pay no annual fee. Those are just a few reasons why our experts rate this card as a top pick to help get control of your debt. Read our full review for free and apply in just 2 minutes.