Get $30-per-Night Hotel Stays or 30% Off During This 30-Hour Sale
Image source: Getty Images If you're timely, you could score a hotel stay for $30…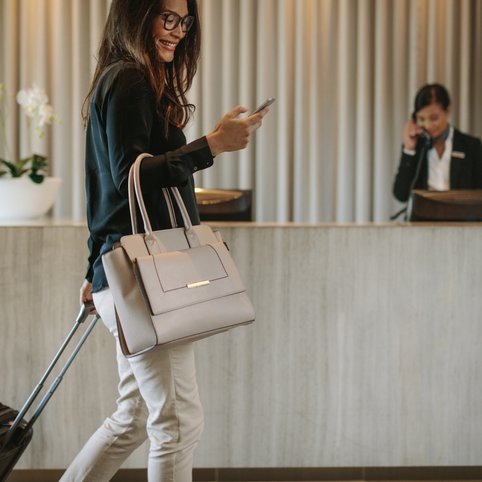 If you're timely, you could score a hotel stay for $30 per night.
---
Key points
By taking advantage of travel deals, you can make your next vacation cheaper.
Graduate Hotels is running a 30-hour sale, and you could score a $30-per-night hotel room or get a 30% discount on your next stay.
---
Travel costs are on the rise — especially this summer, when more people are traveling and gas prices are high. However, you may be able to score a great hotel deal for your next trip if you book a stay within the next 30 hours. Graduate Hotels is running a 30-hour hotel sale. Find out how to book a hotel stay at a $30-per-night rate or get a 30% discount.
Graduate Hotels is a boutique hotel company with 32 locations. At the time of writing, the brand has a collection of 30 hotels in the United States and two hotels in the United Kingdom. Each of its properties is located in a university town, and celebrates what makes the area unique.
If you need to book a hotel stay for your summer vacation, you may be able to get a discounted rate. Graduate Hotels is running a 30-hour sale that could make your next trip more affordable.
How to score a $30-per-night hotel stay
Beginning at noon EDT on May 25, 2022, go to the Graduate Hotels website.
Choose your desired property and travel dates, and enter the promo code "SUMMER30."
If stays are available, you can book a room at a special $30 nightly rate for travel dates through July 31, 2022.
This promotion is available for all Graduate hotel locations in the United States and the United Kingdom. However, some properties may have blackout dates and may make promotional pricing unavailable on weekends.
The $30 nightly rate doesn't include taxes or fees and is non-refundable and non-transferable.
Since this sale only runs for 30 hours, you'll need to act fast if you hope to score a discounted hotel stay.
How to get 30% off if discounted rooms are sold out
The good news is the promotional $30 nightly rate isn't the only hotel deal available.
If you can't find dates that work for your schedule or can't find any available promotional deals for your chosen property, you can still save money on your next stay with Graduate Hotels.
Enter the promo code "MORESUMMER" to get up to 30% off your next stay.
Follow these tips to keep summer travel costs low
You're probably ready to book a much-deserved vacation. If you're worried about the higher cost of travel right now, there are some steps you can take to keep travel costs low:
Set a vacation budget and stick to it. Having a vacation budget can help ensure you don't overspend and fall into a difficult financial situation.
Plan as early as possible. Get planning now to take advantage of lower pricing. You may be able to reserve hotels, transit, or activities at a lower rate by booking sooner.
Get creative with your plans. You may need to get creative to make your trip more affordable. Consider visiting a destination closer to home or planning a short mid-week adventure to keep more money in your bank account.
Don't miss out on this hotel deal. If you know where to look, you can find cheap travel. Deals like this one can make it possible to take a much-needed vacation without sacrificing your personal finance goals.
If you're ready to book your next trip, consider booking with a travel rewards credit card to earn valuable rewards on your travel spending.
Top credit card wipes out interest until 2023
If you have credit card debt, transferring it to this top balance transfer card secures you a 0% intro APR into 2023! Plus, you'll pay no annual fee. Those are just a few reasons why our experts rate this card as a top pick to help get control of your debt. Read our full review for free and apply in just 2 minutes.