Destination Imagination encourages brilliance of child | News
Hudson School District schools have been bringing home Destination Imagination (DI) trophies for over 20…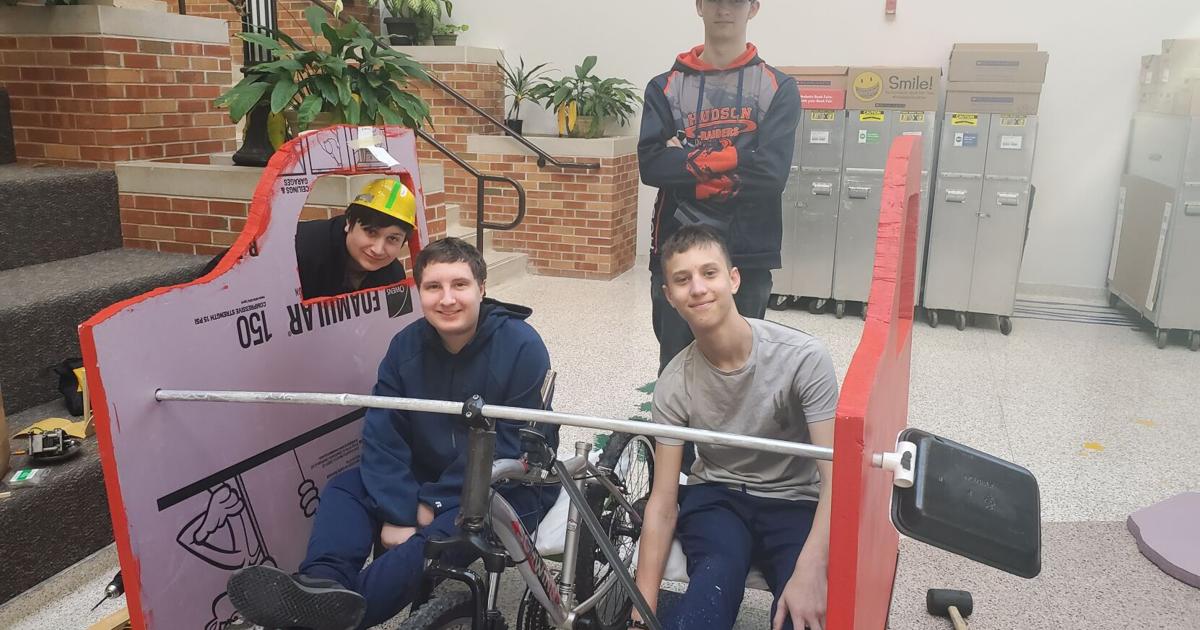 Hudson School District schools have been bringing home Destination Imagination (DI) trophies for over 20 years. 
As a program that honors and fosters the different skills of each child, DI offers a creative, problem solving outlet where everyone can contribute.
Liz Malanaphy helped bring DI to Hudson when she was a parent of children in the school district. She hasn't stopped contributing her time to this artistic, creative and imaginative outlet for the children of Hudson.
Today, Malanaphy co-coordinates Hudson DI with Anita Stilwell. 
DI is open to all ages. Kindergarten through 12th graders have the opportunity to join a team of two to seven students.
Each season, teams choose a category for the first part of each tournament – technical, engineering, science, fine arts, service or improv. 
Malanaphy coined DI as "cross curriculum" as there are skills needed in each category that go far beyond its title. There is research, construction, visualization and more. No challenge is just about one thing. Regardless of the category they choose, each team must produce a play.
The second part of the tournaments is the instant challenge, where teams have five to eight minutes to solve a given puzzle. A puzzle might be constructing a vehicle out of the five provided objects that can carry ping pong balls and is moved by a team member blowing on it. 
It's not always a quiet challenge. 
"Creativity lives in that area of barely controlled chaos," Malanaphy said. 
One of the unique aspects of DI is that there are no gender restrictions or categories. 
"It's a totally even playing field," Malanaphy said. 
Each child is taught a few core values as part of DI: 
It's important to have differences. That's what makes a strong team. Some team members are good at crafts and others are good at research. Both skill sets are needed to succeed. 

When brainstorming, never say no. Instead, piggy back off of someone else's idea. Build on one thought to come up with a more extensive one. 

There is no such thing as an idea that's too wild or crazy. It may not work but it may just spark another idea in someone else's head. 
DI "teaches kids that everyone has something to bring to the table," Malanaphy said. 
Since starting up the DI program, Hudson has sent teams to the global competition almost every year. Five have come back with first place. 
As an international program, DI brings teams from all over the world together to share in one thing – the brilliance of the child.  
This year, Hudson has 17 teams led by parent volunteers, and they will be hosting a tournament this weekend, March 5. 
With COVID-19 precautions, things won't be exactly the same. Teams won't have the chance to watch their peers compete all day nor will they have an in-person award ceremony. 
It hasn't discouraged the students of Hudson from working hard. They've been practicing weekly, and as the tournament rolls around, they've been gathering more often. 
"They are the kids who don't ask 'if we can solve a problem,'" Malanaphy said. "They ask 'how can we solve this problem.'" 
For more information on Destination Imagination, visit destinationimagination.org.