Destination Cyborg — Where could Cris Cyborg land in MMA free agency?
Cris Cyborg cut John McCarthy off before he could even ask. It's traditional in postfight,…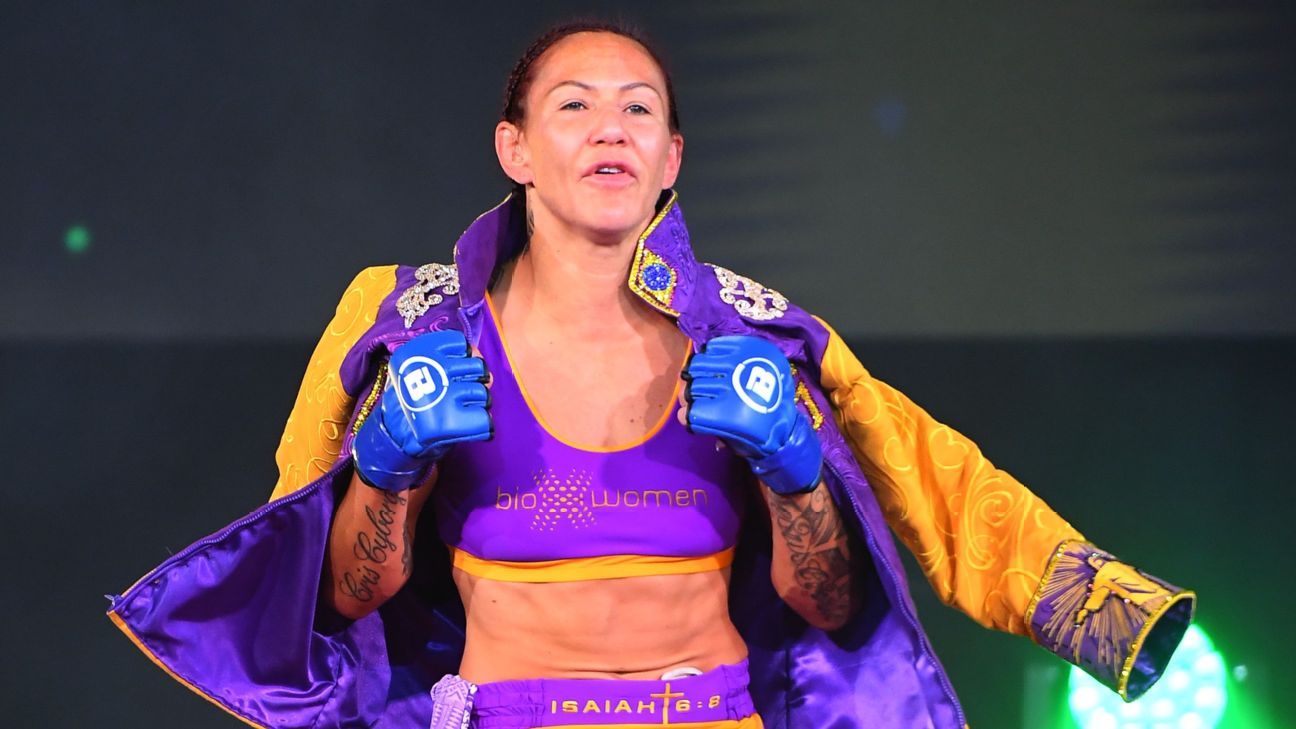 Cris Cyborg cut John McCarthy off before he could even ask.
It's traditional in postfight, in-cage interviews for the broadcaster to ask the winning fighter what they want next. Like she has done to many opponents over the years, Cyborg beat McCarthy to the punch.
"I'm just looking for the biggest fight," Cyborg said. "I don't care if it's gonna be Cat Zingano or Amanda Nunes or Kayla Harrison. I don't know. I just want the big fights for my fans."
Cyborg, one of the greatest women's fighters of all time, will become a free agent this summer, she has said. And she'll do so after yet another impressive victory, a dominant, unanimous decision win over Arlene Blencowe last Saturday night in the main event of Bellator 279 in Honolulu.
There isn't much Cyborg has failed to do in MMA. She's the only fighter ever to win championships in four major promotions: UFC, Bellator, Strikeforce and Invicta FC. On Saturday, she defended her Bellator title for the fourth straight time, tying Ben Askren for the most consecutive title defenses in the promotion's history. The one knock on her has been the lack of top competition, which is not entirely her fault, but more a statement on the depth in the heavier women's divisions.
Cyborg, ESPN's No. 4-ranked pound-for-pound women's MMA fighter, has a chance to dispel those notions as a free agent, where she could have some interesting options. There are massive fights for her in other organizations, as she mentioned Nunes, the former UFC two-division champion, and Harrison, the defending, two-time PFL women's lightweight champion. There's also Zingano, who is in Bellator and owns a win over Nunes, but would not be as high-profile as the others.
Nunes is the only woman to beat Cyborg since Cyborg's pro debut in 2005. Nunes knocked Cyborg out in the first round to win the UFC women's featherweight title (which Nunes still holds) at UFC 232 in December 2018. Cyborg said that a rematch is still something she'd like, even if she knows her legacy is cemented.
"We didn't make it happen at the beginning," Cyborg told ESPN last week. "But I don't think I really need the rematch to change my journey. But I think it's always good when you're a fighter and you get the opportunity to fight the people you lost with."
Is there any way a second Nunes fight could happen? What about a matchup with Harrison, the former two-time Olympic judo gold medalist? Or could Cyborg try her hand at a different sport?
ESPN proposed some odds about where one of the greatest of all time could land later this year.
---
Bellator: Can the incumbent retain the champ?
Re-signing with Bellator is the most likely scenario. Cyborg seems happy with the promotion, and there is a level of comfort that she enjoys with Bellator president Scott Coker that she doesn't have anywhere else. Coker was her promoter with Strikeforce from 2009 to 2011 and the last two-plus years with Bellator. He was her promoter when Cyborg fought Gina Carano in the biggest women's MMA fight of all time at that point. Cyborg is a hugely important fighter for Bellator, as she was for Strikeforce. Coker and company will likely do whatever they can to bring her back.
"We will negotiate with her and we will try to make another deal with her," Coker told MMA Fighting last week. "Again, she's important to the company. We love her. I've been promoting her since 2009. … When you think about the friendship and relationship that we have, it's pretty smooth. Let's see if we can put things together."
Odds on Cyborg to Bellator: -150
---
PFL: Will we finally get Cyborg vs. Harrison?
As part of Harrison's recent free-agent negotiations, promotion executives promised Harrison a huge, pay-per-view fight in 2023, after the 2022 PFL season. Cyborg is at the top of the list of big-name opponents available for Harrison, so PFL is likely to make a significant play for her. Cyborg told ESPN that the last time she was a free agent, PFL made a "competitive" offer. Expect another one here. And if Cyborg does end up re-signing with Bellator, PFL founder and chairman Donn Davis has made it known he will try to do a co-promoted event with Bellator, headlined by Cyborg vs. Harrison. Coker has not seemed bullish about such a thing happening — he doesn't like PFL's Twitter tactics — but Bellator has always been willing to co-promote under the right circumstances, like with Rizin in Japan.
"The king of co-promotion is one and only — it's Scott Coker," Harrison's manager Ali Abdelaziz told ESPN. "He's the guy. He always does it, right? PFL is very flexible. I think I need to get two guys in a room and sit down and talk about it. Maybe Cyborg doesn't need to come to PFL. But if she comes, OK. Maybe you can do co-promotion. Why not? If it's doable, PFL will do it. Scott Coker will do it. But you have to put some respect on Scott Coker's name."
Odds on Cyborg to PFL: +300
---
Boxing: Will Cyborg take her talents to the squared circle?
Cyborg has long said she wants to compete in boxing. The timing hasn't been right for her, but it's still something that could happen, even if she re-signs with Bellator. Coker has said he's willing to support Cyborg if she wants to step in the boxing ring. Maybe she could even do it with Jake Paul's Most Valuable Promotions. Cyborg appeared in Paul's recent music video attacking UFC president Dana White.
"I really like to strike," Cyborg said. "I know it's a different sport. I'm gonna have to be focused for a boxing fight. But it's still one of my dreams."
Odds on Cyborg to boxing: +1000
---
AEW/WWE: Well, Cris Cyborg already sounds like a cool wrestling name
In January, current All Elite Wrestling (AEW) women's champion Thunder Rosa visited Cyborg's gym in Orange County, California, to work out. The two have developed a relationship over social media, and the time together resulted in a faux pro-wrestling match which caused a stir on social media. Cyborg is active on Twitter during big WWE and AEW events, and it's something she said would be fun to do if things lined up. This is also something Cyborg could do while with Bellator. Jake Hager fights for Bellator and performs for AEW.
"Why not?" Cyborg said of pro wrestling.
Odds on Cyborg to AEW or WWE: +1500
---
Could Cyborg ride off into the sunset?
Brazilian UFC fighters Mayra Bueno Silva and Gloria de Paula were with Cyborg in Southern California during her training camp over the last several weeks. Bueno Silva was at Cyborg's gym for her own UFC camp, and she beat Wu Yanan on April 16 in Las Vegas. Cyborg has expressed interest in coaching before, and she has several fighters training at her gym that she helps. But retirement? Not yet, Cyborg said, even though this is her 17th year in the sport and she turns 37 in July.
"I don't feel in my heart yet about retirement," Cyborg said. "It's gonna be 17 years. Maybe I can do 20 years. But I don't know. Only God knows how I'm gonna feel. But I feel great. I'm very thankful. I never had any bad injuries in my career. It's very long. I never did one surgery in my career, 17 years. I never pulled out of one fight because of injury. I feel very blessed about this."
Odds on Cyborg retiring and/or coaching: +5000
---
Could Cris Cyborg and Dana White reconcile their differences?
This is highly unlikely. Neither side is very fond of one another. Even when Cyborg was in the UFC, there were hard feelings between her and White, who once said she looked like MMA legend Wanderlei Silva in a dress. On another occasion, Cyborg's team doctored a video to make it seem like White said something he did not say, which Cyborg later apologized for. To compound matters, the UFC doesn't have a real women's featherweight division.
"The reality is they don't have girls for me to fight," Cyborg said. "One of the problems — not just Dana White — is that they don't have the girls to fight. … The reality is they don't have a division at 145 pounds."
Even that Nunes rematch wouldn't be enough to sell Cyborg on going back to the UFC.
"Of course, when you're a fighter and when you like to fight and you have one loss, of course you want to [have a rematch]," Cyborg said. "But it's not something I'm going to change in my career the way it's going now."
Odds on Cyborg to UFC: +10000