Buy Vacation or Honeymoon From BJ's, Costco, or Sam's Club
While you can find travel savings at all three stores that will easily cover the…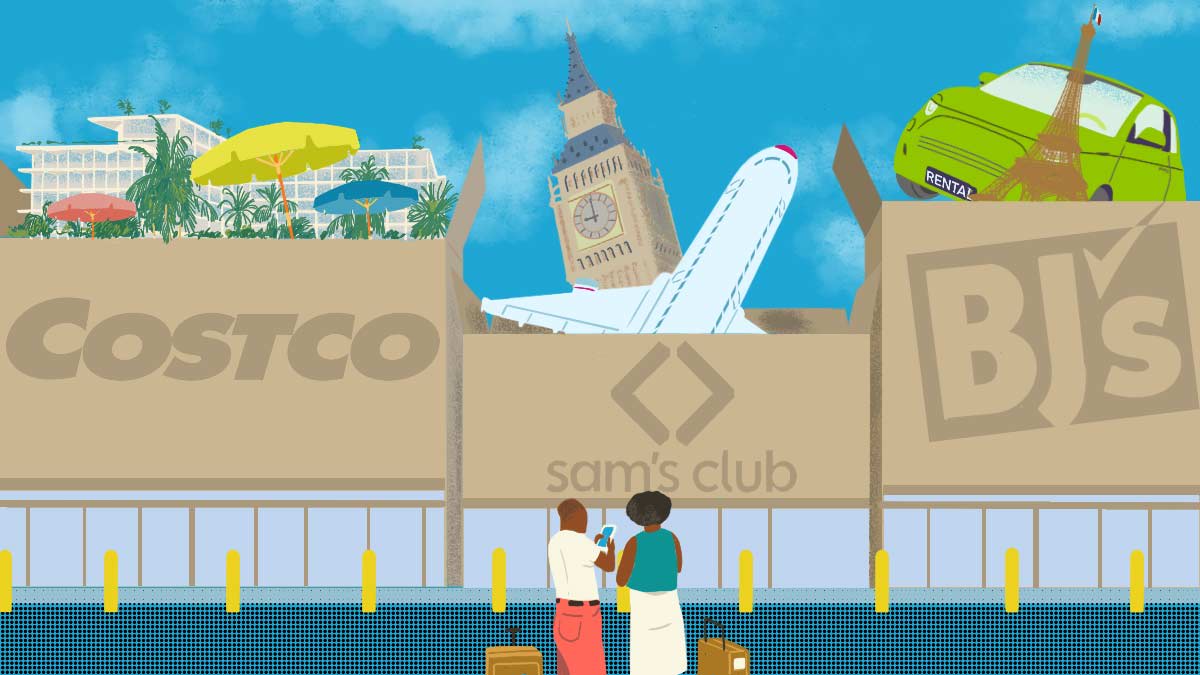 While you can find travel savings at all three stores that will easily cover the cost of joining (typically $45 to $60 for a basic membership), each store excels in different areas. Here are the pros, cons, and extra perks you can find. 
BJ's
BJ's offers a vast selection of hotel and flight options and is best for savvy or flexible travelers who are willing to scour the multitude of options for the best value and most convenience. If savings is a priority over convenience, BJ's sometimes has the advantage. 
Pros: We found that the BJ's travel site was the easiest to navigate and had the nicest interface, with plenty of useful filters to help you find what you want. In terms of value, BJ's sits right in the middle. It's rarely the cheapest, but it may offer fully refundable options when other sites do not. BJ's offers 5 percent cash back on "qualifying" travel bookings in the form of a store e-gift card. (The company did not respond to repeated requests for further information on this program, including specifically what travel bookings qualify.) According to its website, BJ's offers a 110 percent Best Price Guarantee on vacation and cruise bookings within 48 hours of purchase. You must meet several conditions for the guarantee to apply, so read the fine print carefully.
Cons: Sometimes the cheapest option is completely impractical, like the one-stop, 18-hour journey from Miami to Aruba the site offered us. To avoid a nightmare itinerary like that, you need to pay close attention to search results. 
Costco
Costco is a good choice for those who want a one-stop shop for ready-made trips to popular destinations like Hawaii, the South Pacific, Europe, Mexico, and the Caribbean. It wasn't always the cheapest (though it did offer thousands of dollars of savings in one instance), but it adds on a lot of extra perks, like airport transportation, room upgrades, or a store credit. Sometimes these justify a higher rate compared with its competition, but sometimes they don't. 
Pros: Costco has the most price transparency of the warehouse clubs we evaluated. It gives the total price up front, including taxes and fees (which can change the total cost significantly). We didn't find any hidden fees or other surprises on the final itinerary. If the hotel requires any fees paid to them directly (like parking or a resort fee), Costco flags that clearly when you try to book. Their refund policies vary from booking to booking, but those are very clear as well. Costco Executive Members qualify for 2 percent rewards on Costco Travel purchases. The Costco Anywhere Visa by Citi card earns 3% cash back on eligible travel purchases. 
Cons: We found that Costco offers fewer hotel options than Sam's and BJ's, and that it does not offer any hotel-only options in certain destinations. Travelers looking only for a hotel room and who want the widest selection of hotels to choose from may be disappointed. 
Sam's Club
In our experience, Sam's is best for hotel bookings. In one instance, it offered a savings of more than $1,000 compared with booking directly with a luxury London hotel, though it did not deliver savings consistently. According to a spokesperson, Sam's core members are families with children who tend to buy tickets to major theme parks like Disney World, Disneyland, and Universal Studios. We did not evaluate these offerings.
Pros: Sam's offers a very wide variety of well-priced hotel options around the world, as well as tickets (some of them discounted) for day tours, Broadway shows, Disney, entertainment options (like movies, theme parks, concerts), and other tourist attractions. With a Sam's Club Mastercard, members receive an extra 3 percent cash back on any travel or entertainment purchase to use at the store. According to Sam's website, it offers a Best Rate Guarantee within 24 hours of booking, but with a $150 maximum refund and a lot of fine print.
Cons: Sam's does not offer flights, so anyone looking for ready-made vacation packages that include air will need to shop elsewhere. Some of the rental car offerings we found did not include unlimited mileage. Sam's doesn't include the taxes and fees until check out, so if you're comparison shopping, it's harder to get the full picture until the very end. Sam's also doesn't include resort fees (or anything else payable to the hotel, like parking), which is explained in the fine print but, again, may make it difficult to know how much you're going to pay in the end. 
Keep In Mind
When buying travel from any third party, including a warehouse club, assistance may be limited if you run into a problem, such as a flight cancellation. Customer service representatives aren't travel agents and, though a company may say that travel experts are available around the clock, that was not our experience. Bottom line: If you need to reschedule a flight or there is an issue with the hotel, you should be prepared to deal with the travel provider directly and not assume that the warehouse club will come to the rescue. 
Always compare rates with the hotel directly. A hotel website may offer special packages that could include extras like breakfast or spa credits that could actually make them a better deal than comparing the room rate alone.
Finally, always check the fine print. Cancellation and refund policies may differ between sites and even among different travel purchases on the same site. Double-check the terms of any booking before you pay.